These pages have been created to enable all our Classmates and the Friends of Mfantsipim to share in the joyous experiences we had at Kwabotwe as well as serve to foster a great sense of Unity and Friendship among all the boys of the Class. We also dedicate these pages to serve as a tribute and thanksgiving for what the great School did for us whilst we were getting an education and a future life. We know that we would have a continuing chance to serve our country in as many diverse ways as there were Boys in the Class.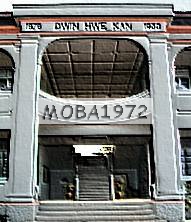 We have celebrated our 30th Reunion with a resounding success.. Thanks to all the Boys, Spouses and Friends of MOBA72 who made it possible.. We have photos and more on this site. Now we await our 40th Reunion and all the anniversaries in between!!!!!!
Check the To Saturday, November 10, 2012
Send us an Email if you feel the ping of nostalgia as you walk through these pages with your families and friends.